While
Joe Root
has trumped
Virat Kohli
in terms of runs scored, the Indian skipper has outsmarted the Yorkshireman tactically
A five-match Test series these days is a brutal test of endurance, more so for the captains and the backroom staff who need to tweak their gameplans every week, apart from keeping the morale of the team high. There's hardly any time for the players to rest and recover, let alone find form.
Another effect of a packed itinerary is that teams start getting on each other's nerves quickly and the atmosphere can get combustible, as it did in the second Test at Lord's. And that is where things start getting tricky for the captains.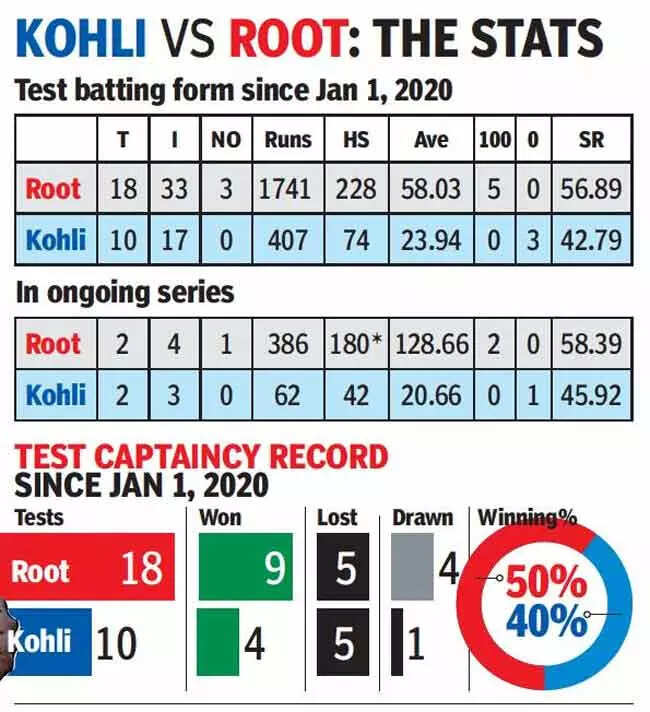 England got sucked into the game of one-upmanship and let the Test slip out of their hands on the fifth morning. Not that India are complaining, but strategy-wise, a five-Test rubber also brings to light the captain's ability to get the best out of his players in a dead-heat race. In that sense, it has been a contrasting journey this far for the two captains – Joe Root and Virat Kohli.
These are still early days in the series, but Root, with 386 runs at an eye-popping average of 128.67 after two Tests, heads the run-getters' list and is way ahead of Kohli, whose three outings have fetched 62 runs for India. But result-wise, India are 1-0 up on the board and had the weather not played truant on Day 5 in Nottingham, it would have been a different story heading into the third Test at Leeds.
Root has scored a couple of top-class hundreds (109 & 180*) and has made the otherwise lethal Indian pace attack appear tame. Even though the 30-year-old Yorkshireman has dominated with the bat, he has struggled to make use of resources at hand and his tactics have invited flak from all corners. Root probably needs to take a leaf out of New Zealand's book. The Black Caps never hit or bowl a ball in anger.

Kohli, who completed 13 years in international cricket last week, has struggled to score big runs for almost a couple of seasons now. Yet, he remains the conductor of this Indian team and its heartbeat.
There's a marked improvement in the way Kohli has led the side post India's epic win against Australia earlier this year. Kohli had sat out of the series as he awaited the birth of his first child but watching from afar has probably given him a different perspective of things.
He now appears to be comfortable with the idea of letting his bowlers set their fields and doesn't mind bouncing off ideas with Rohit Sharma and Ajinkya Rahane while planning a dismissal. For a man who recently became the fourth-most successful captain in Test history (37 wins from 63 Tests), Kohli is now only behind Graeme Smith (53), Ricky Ponting (48) and Steve Waugh (41). If he continues in a similar vein, the record for being the most successful Test skipper ever is his for the taking.