For a man who looked simply unstoppable until a couple of years ago,
Virat Kohli
's fortunes with the bat have nosedived quite inexplicably.
The world's premier batsman, who piled up hundreds at will, has not scored one across the three formats for 50 innings and his latest bout of failure came in the first hour of the third Test at
Headingley
on Wednesday when he was dismissed for seven by his bete noire
James Anderson
.
Kohli, incidentally, averages a dismal 23 in the last 18 innings.
Lean patches are part and parcel of a cricketer's journey. There are bound to be peaks and valleys in performances as the career chugs along. All greats of the game have had their share of dips and Kohli, undoubtedly is facing headwinds after ironing out the chinks in 2014.
But it looks like the old habit of dangling the bat outside the off-stump is back and Kohli, not for the first time in England, got out swishing at a ball that could have been left alone. It was the fourth time in the series that he had edged the ball behind the stumps.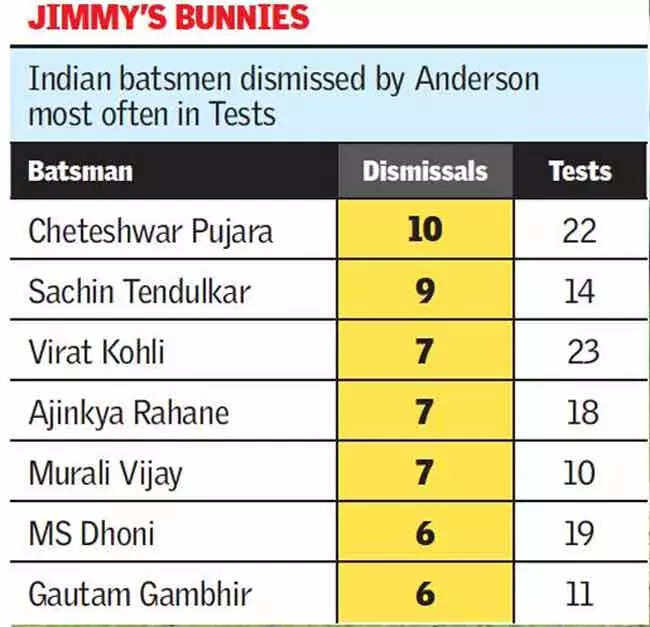 Kohli's lean patch started with the 2020 tour of New Zealand where he managed 218 runs in four T20Is, three ODIs and two Test matches.
In the only Test he played in Australia late last year, his defiant 74 in the first innings was lost in the ruins of the disastrous second innings of the pink-ball Test where India were gobbled up for 36. It was an out of character show from the India captain who spent 244 minutes at the crease for his 180-ball effort. It was also his second slowest half-century. 3rd Test, Day 1: James Anderson sparks India collapse
A similar sort of effort would have helped India's cause at Headingley had Kohli played the waiting game. With KL Rahul and Cheteshwar Pujara back in the shade, the need was to show restraint. And what's astonishing is that Kohli had made the right noises on the eve of the Test by saying that "You have to keep your ego in the pocket (while batting in England)."
In his pre and post-match discourses, Kohli, almost as a rule, shies away from discussing individual players' lack of form.
"Our focus is not to think about where people are individually now. It is about collectively how much strength they bring into the team. As a batting unit, we are looking to perform in difficult conditions, so that we are in winning positions and someone is going to put their hand up every game," Kohli has maintained when asked about the Pujara and Rahane's ordeals.
His response was almost identical when former England captain Nasser Hussain nudged him about the recent lack of big scores.