NEW DELHI: Talented top order batsman
Ruturaj Gaikwad
's learning curve at the
Chennai Super Kings
camp during the Indian Premier League earlier this year was a big one.
From sharing the dressing room with his
CSK
skipper Mahendra Singh Dhoni to running between the wickets with South African batting star
Faf Du Plessis
, Gaikwad picked up a bagful of cricketing tips.
And he is looking forward to putting them to good use if he gets a chance to be a part of the Indian playing XI on the limited overs tour of Sri Lanka.
The 24-year-old from Maharashtra is one of the six uncapped players who were named in the 20-member squad for the Sri Lanka tour.
"The feeling is really good. I am feeling proud of this call-up. Playing for India is a different feeling altogether. I remember I was sleeping and just after 10 minutes, my phone started buzzing. There were several missed calls. My parents also got calls (after his India call-up). They came into my room and congratulated me. I was so happy. They were both very proud and my father hugged me. It was an emotional moment for me. It was a long-cherished dream which has come true," Gaikwad told TimesofIndia.com.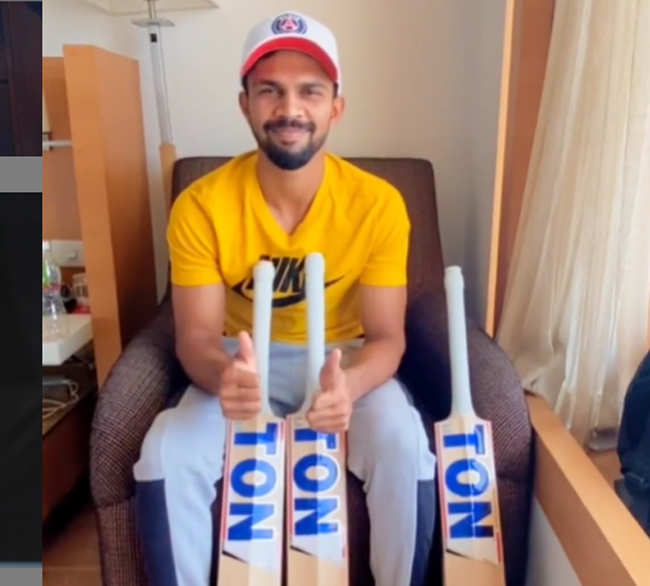 Image credit: TOI Photo
India, captained by Shikhar Dhawan will play three ODIs and three T20 matches between July 13 and July 25 against Sri Lanka. These in fact will be the last T20Is India will play before the ICC World T20 later this year.
"Shikhar bhai (Shikhar Dhawan) is a gem of a person and a wonderful human being to be around. He has played international cricket for a long time now. He is a legend of the game. I am really happy to share the dressing room with him. It is going to be a huge learning experience for me to learn from Shikhar bhai. He knows the game in and out. I am really excited," the right-handed batsman further said.
"I want to take it one game at a time. If Shikhar bhai asks me to open, I will. If he asks me to play in the middle order, I will be ready. I am ready to bat in any position. We just want to win the series in Sri Lanka. I am confident we will," the 24 year old from Pune, who has four first class centuries told TimesofIndia.com.
With India head coach Ravi Shastri traveling with the Indian team which is in England for a five-match series, former India batting stalwart and head of the NCA, Rahul Dravid has travelled with the Indian team which is in Sri Lanka. His experience of coaching the India u-19 and India A teams gives him unique insight into the games of many of the youngsters who are part of the squad.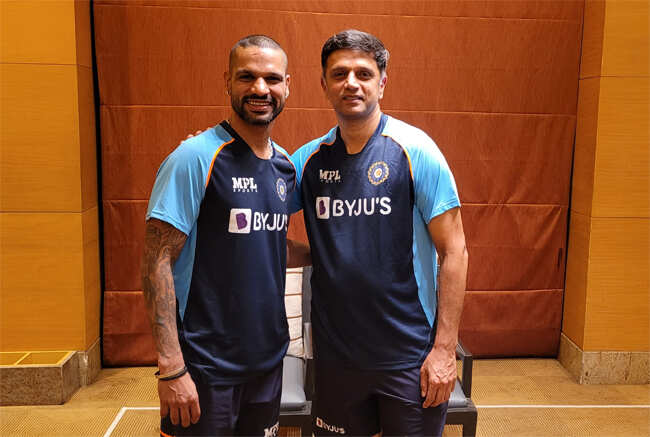 Shikhar Dhawan and Rahul Dravid (BCCI Photo)
Gaikwad, who has played 21 first-class matches, 59 List A, and 46 T20 matches for Maharashtra so far, is eager to pick Dravid's brain on the tour.
"The best part about Rahul sir is that he gives freedom to the youngsters. He corrects their flaws. He never asks any player to change his style. He has immense knowledge about the game. Playing under a legendary player who will be our coach and learning from him will be a huge thing for me. I am looking forward to taking more and more batting tips from him," Gaikwad told TimesofIndia.com.
'RELAX AND BE CALM' – DHONI'S TIPS FOR GAIKWAD
After an unimpressive start to the 2021 IPL campaign, scoring 5,5, and 10 in the first three matches, Gaikwad scored a brilliant 64 runs off 42 balls and stitched a 115-run opening stand with Faf du Plessis against Kolkata Knight Riders. CSK won that match by 18 runs.
In his next match against RCB, Gaikwad scored 33 and then he smashed a blistering 75 off just 44 balls, chasing Sunrisers Hyderabad's 171/3. Gaikwad was adjudged Player of the Match for his match-winning knock.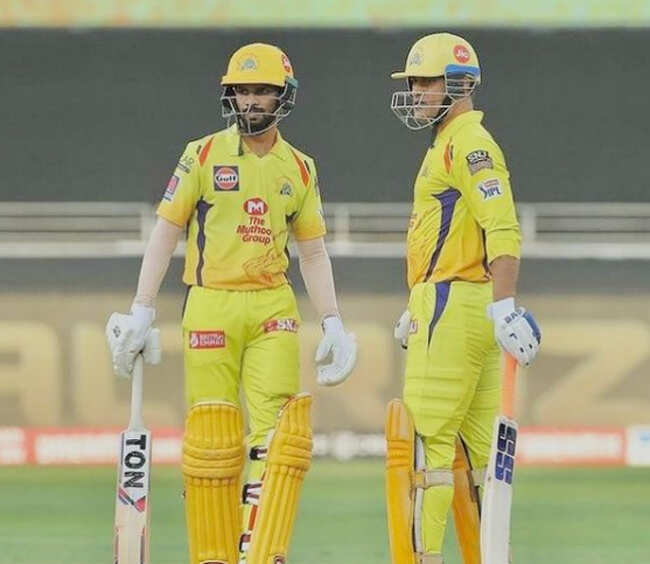 Ruturaj Gaikwad and MS Dhoni (BCCI/IPL Photo)
"Faf doesn't speak much on the field. If I play a good shot, he will give a reaction. He comes, gives a fist pump. But after the match, he will ask several questions like how did I play that shot, etc. It's fun to bat with him in the middle," Gaikwad recalled.
"Every time you see the presence of MS Dhoni and Faf or Suresh Raina, you feel confident and get a boost. Faf talks a lot about cricket. There are various topics he discusses. Mahi bhai has immense knowledge and he shares his experience with us. Whenever I come back from the nets, if he is around, he tells me what my flaws are and suggests solutions. Mahi bhai's words encourage me a lot. I got a lot of batting tips from Mahi bhai and Faf and I am going to apply those on the Sri Lanka tour," he added.
The one lesson Gaikwad will always remember from Dhoni is to stay calm and relaxed when on strike.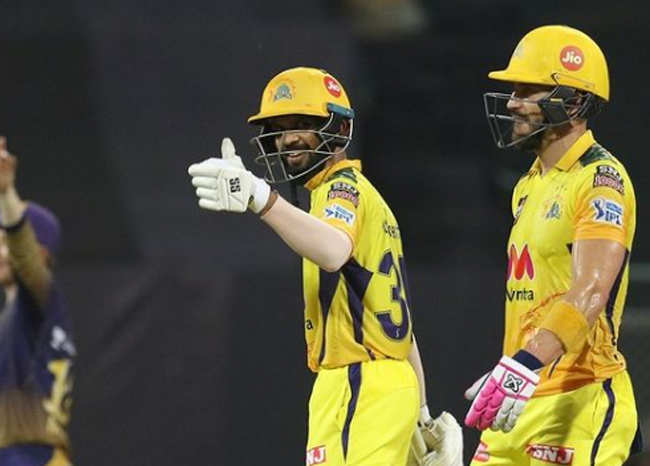 Ruturaj Gaikwad and Faf du Plessis (BCCI/IPL Photo)
"Mahi bhai emphasises more and more on being relaxed and staying calm while batting. He always tells me 'Tu enjoy kar game ko, pressure mat le, aur naturally khel (Just enjoy your game, don't take the pressure and play naturally). He tells me – 'there will be a lot of things and talk that will happen around you when you play, just don't bother about those, just focus on your game. He is one player who openly supports his players. His support and guidance have given me a lot of confidence," the Maharashtra cricketer who has quickly become a first choice opener for CSK said.
'INDIA FAVOURITES AGAINST ENGLAND'
Since 1932, India have toured England 18 times for a Test series and have emerged as series winners only thrice.
India won in 1971 (under Ajit Wadekar's captaincy), in 1986 (under Kapil Dev's captaincy), and in 2007 (under Rahul Dravid's captaincy). After 2007, India toured England three times, but couldn't clinch the series (2011, 2014, and 2018).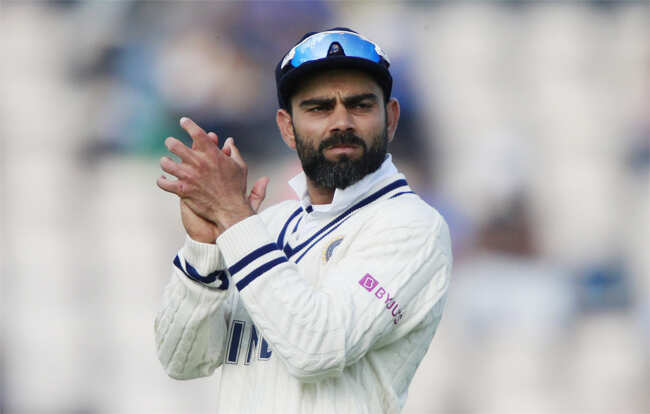 Virat Kohli (AP Photo)
Gaikwad rates India as the favourites to clinch the five-match Test series against England.
"We have a very strong squad. I am sure we will win the series vs England. All the bases are covered. Be it fast bowling, batting, or fielding. The best thing is that we have options. We have stars in our team. So, India will have a good time in England. England didn't have a good run recently. They lost to New Zealand., they lost to India at home. So, they will try to bounce back stronger, but India will have an upper hand against England and I am sure Virat bhai will take India to a series win in England," Gaikwad signed off.