They did it in Australia. They are now doing it in England. This Indian cricket team has kept the flame of Test cricket burning bright one series after the other, fuelled intrinsically by their passion for the red-ball format.
There have been a few odd nags from puritans about
Virat Kohli
's behaviour, but let's face it, Test cricket has been ailing for a while and India captain's devil-may care attitude has infused it with a fresh lease of life.
No matter how much they loathe it, no cricket expert has come out in the open criticising
Kohli
's conduct. Contrary to that, former cricketers reckon he's the man to lead the longer version out of its sickly phase even as the men in suits continue to flirt with the shorter formats.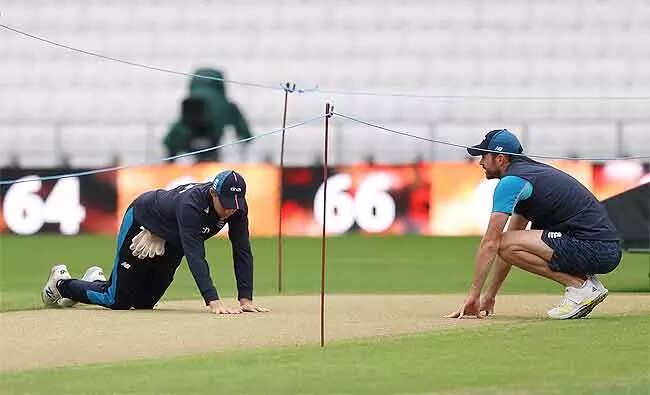 A struggling batting line-up and a potent Indian pace attack has forced England to dish out a brown surface at Headingley, a venue historically known for its prodigious seam movement. Tuesday was an optional training session for India, but offie R Ashwin's lengthy net gave a few hints about India's playing eleven on Wednesday. (Reuters Photo)
Take it or leave it, Kohli's tourists will continue to play with the same intensity, audacity, and with England coach Chris Silverwood promising to fight fire with fire after the stinging reverse at Lord's – there could be another humdinger in the offing – this time at Headingley. Compared to England, India have fewer problems at hand heading into the third Test. For starters, Kohli and the team thinktank have a tough choice to make between the ageing warhorse Ishant Sharma and rookie Shardul Thakur, who had missed the last Test due to a hamstring niggle.
Not a first choice anymore, Ishant had turned out to be India's ace in the hole in the previous Test as he broke a threatening 58-run partnership between Joe Root and Moeen Ali in the first innings and then followed it up by dismissing Sam Curran for a first-ball duck.
The 32-year-old bagged another couple of wickets in the second innings and stayed put at the wicket to score 16 valuable runs before Mohammed Shami and Jasprit Bumrah took over.
Does Ishant have enough fuel in the tank to play back-to-back Tests? The overall conditions at Leeds have favoured the quicks over the last few seasons and there could be enough doubts to play R Ashwin. Kohli didn't reveal much about the final eleven, but he did admit that he was surprised with the pitch on offer.
"As far as Ashwin's playing is concerned, we're quite surprised to see the pitch," Kohli said on Tuesday. "I thought there'll be more grass on the pitch and it'll be more spicy and lively. Anything is possible," he added.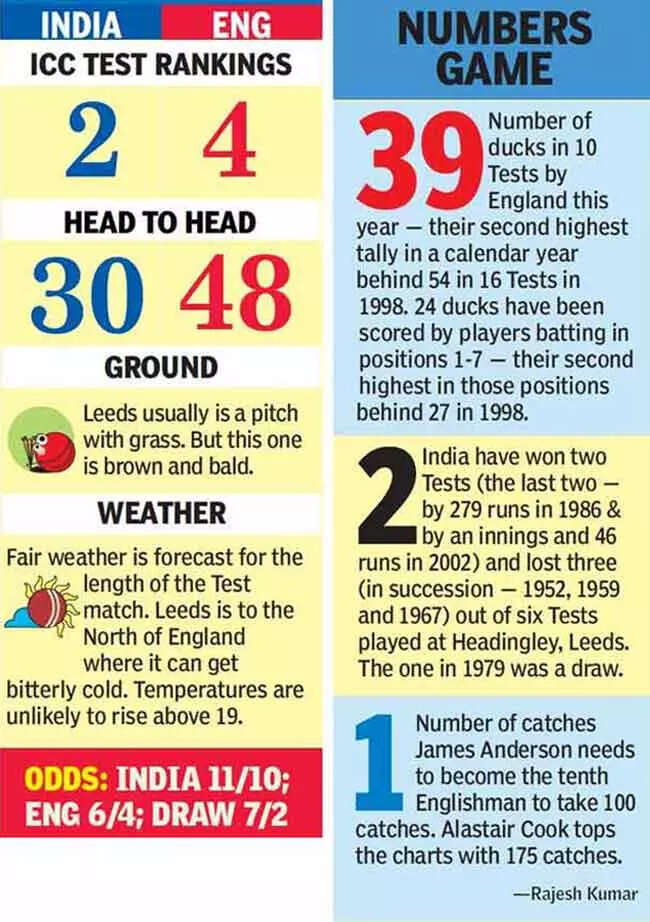 The other issue at hand is the inconsistent batting. In the pursuit of winning his first Test series in England as skipper, Kohli's batting appears to have lost its bite and he looks vulnerable again outside the off-stump. Kohli's lean patch could be one of the factors why the axe has not fallen on Cheteshwar Pujara and Ajinkya Rahane despite the lack of runs.
While the opening looks sorted, Rishabh Pant has not looked comfortable batting at No. 6 in England against the Duke ball, but the wicketkeeper-batsman could just hit his way out of trouble. Meanwhile, Ravindra Jadeja (99 runs in three innings) still has to fill the wicket column while playing as the all-rounder.
For England, the problems have descended in droves. Root has been without the services of top-notch players due to different reasons and their absence has had a telling impact on the team.
The top-order with their homespun techniques has been a sitting duck for the Indian pacers. Opener Dom Sibley and Zak Crawley have been banished to the grinds of County cricket while Dawid Malan, who was dumped due to his inability to score in home conditions has been recalled. Haseeb Hameed, who'll open the batting with Rory Burns, has looked edgy.
On the bowling front, the hosts may choose between Craig Overton and Saqib Mahmood for the fourth seamer's spot.